Is There an Album Preview Page?

Yes! Go to ../music/wonderful.html for many different MP3 tracks as well as links to lyrics. God bless you, and I hope you enjoy what you hear!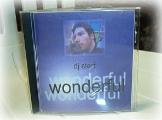 The Smartest People on the Earth
Give a listen to the first track off the "Wonderful" CD!



DJ Sterf, the Artist

The New DJ Sterf Album "Wonderful" is now ready for order!

"Wonderful" album features 22 original tracks all written and produced by Sterling Franklin, with appearances from DJ Ice, DJ Merc, and more!

Each "Wonderful" CD comes with a free "e1" CD, with three Evangelistic tracks to give to your friends. 22 Tracks, 1 Mission, 8 Bucks.

You can order up to THREE different DJ Sterf Albums:
Wonderful, the Instrumentals...Plus Some
About the Artist

DJ Sterf is an ex-Television show host and current FM radio DJ attending college at NC State University. He is majoring in Religious Studies and Communications, and is minoring in Computer Science. His music is inspired by both aspects of common ol' everyday life, and aspects of eternal life through Jesus Christ. More of an experimenter, DJ Sterf will take you from Rap to Reggae to Techno to Pop to Country on his albums. Give it a listen...you may just enjoy it!