I used to work in TV...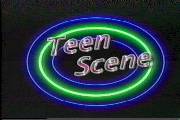 Teen Scene was a show on Victory Television Network, which would soon become the Voice of Faith Network.
It mainly featured teen panel discussion on certain topical issues, covering anywhere from Fads to Wisdom.
I first saw the show when my mom made me watch. I thought it was pretty boring, but well after the show, it kept nagging on me. There was an invitation to help out, so I thought I'd at least help out with the e-mailing list.
So I signed up. This was the first time I had e-Mail, so this was new and exciting for me. We did not have internet at our house, as our computer was lamely slow and Compuserve wasn't very cost-effective.
I answered a few questions here and there (maybe about 5 a month). These were mostly opinions about Christian music or books (which I really didn't know anything about at the time). Anyway, they asked in July if I would come in to the studio.
They wanted me to be a panelist on the show, and Aaron and Christen were going to move from panelists to host. Brittany was going to college, so she was planning to move on (though she did come back one summer when she was 21 to do more work with it).
I was on the panel as more of a comic relief. There was an opening for a Music News segment, so I took it as Aaron offered that to me: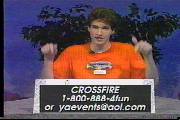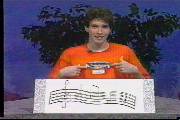 The Music News was an ok segment. I generally shot for 4 minutes, though in shows where we needed more filler, I went up to about 7. Generally it was between 3:30 and 4:30, though.
Aaron and Christen decided that they were tired of coming in every week, and they wanted to focus on other things. So they talked to me about ending the show.
I asked if I could host it, and they figured that it might work...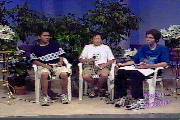 These are low-quality images, but you get the point -- sometimes we chilled in lawn chairs and discussed various issues.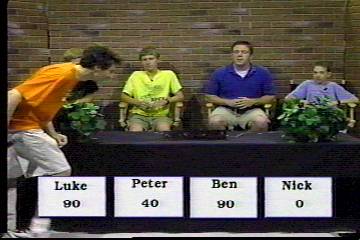 Sometimes we would have a more involved show, like 'Teen Scene Jeopardy!' We also had shows, 'Who wants to be a Person who wins $10?' and 'Teen Scene Spelling Bee.'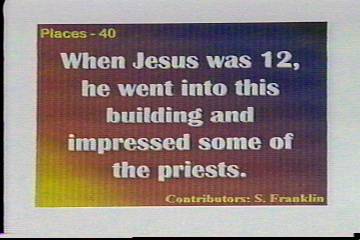 Here was one of the clues. You can tell that I had a laggy ink jet printer, as there are lines all through the print-out. Quality back then wasn't what it is now!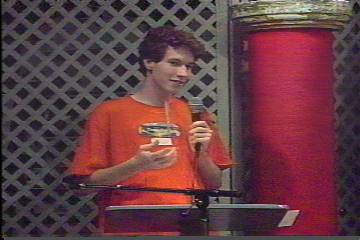 Peter on Teen Scene Jeopardy: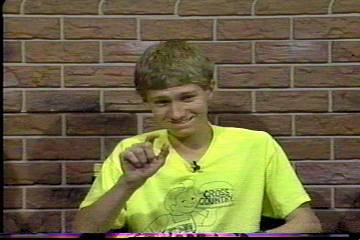 We even added several segments. My friend Theo always struck me as a wise kid, so I had him do the Proverbs Minute.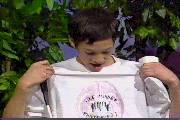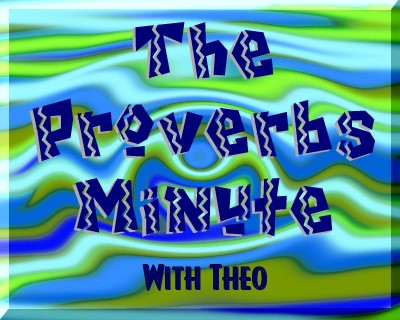 I advertised the show in the school halls and online. Here were some of the wacky school signs that I put up (which actually worked well in getting kids to watch):
| | |
| --- | --- |
| | |
| | |
I enjoyed my time hosting, but after a while, the station manager saw an opportunity. He wanted his youth group to be more involved in the show, so he recruited the youth minister and his assistant to lead the way in the new season.
The group came in consistently late, and they were very inefficient with time. It wasn't too surprising -- most of the kids had never been in front of a camera, so there were numerous takes required. The old host came back and wanted to get some of the shows on Sky Angel, a national Christian satellite station.
She thanked me for keeping the show alive all that time, and she bumped me to an 'eNews' role. I wasn't too fond of the eNews since the image they started projecting of me was that of a Geek Squad-esque guy. Anyway, here was the logo for that: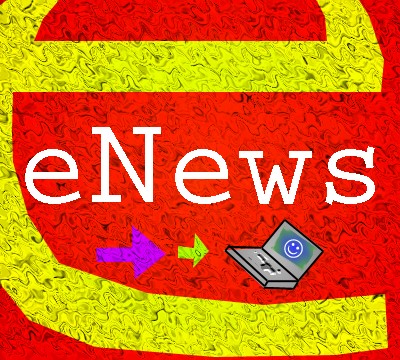 It had a neat animation to it via a Visual Basic program I made to animate sequential bitmaps.
After a few weeks, and about 4 episodes into the new season, the group felt that the show was too much of a burden (45-minute drive each way, and tons of kids to lug around), and they dropped it completely. The shows never got syndicated, and I don't believe that they were ever sent to Sky Angel for consideration.
So I offered to continue the show yet again, but the station manager thought that it would be best that the show end. However, feeling bad about the flop, he offered me a spot on the News from the Lighthouse as an anchor for the TeeNews. Here was the logo for that: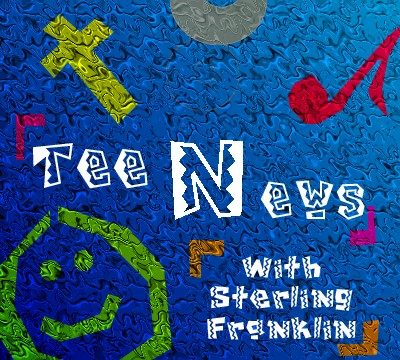 I did that anchoring the rest of my time at the station. They ended up selling it to Daystar, a Word-of-Faith station centered in Texas. It was pretty sudden, but the station could not even afford to continue local programming, so it was a done deal in July, 2001.
I did radio for 3.5 years about a year after the TV ministry ended. Who knows, maybe you'll see me on TV again sometime soon.